COVID-19 Tax Credit & Deferral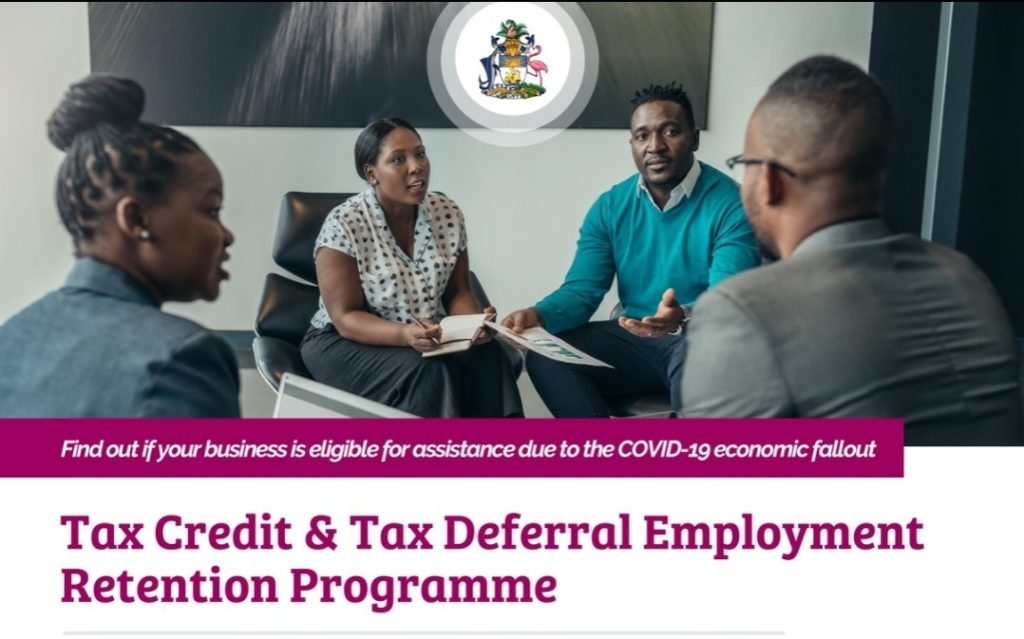 The Tax Credit and Tax Deferral Employment Retention Programme has been expanded to include all qualifying VAT registered businesses with a turnover in excess of 100k and hotels to provide payroll support, and encourage employee retention. (special conditions may apply)
ELIGIBILITY REQUIREMENTS:
To be eligible, enterprises would be required to:
Be a current business license holder and VAT registrant

Be in good standing in VAT or BL payments as at June 2020 (not including BL due for current 2020 cycle)

Commit to retaining 80 percent of staff levels as at February

2020 levels, though to October,

2020;

Make application for concession and provide evidence of February 2020 employment levels and payroll

Commit to utilization of the tax grant solely for purposes of payroll requirements. This is to cover non-executive pay only, and no bonuses or payments to directors, proprietors or similar job title level.
This concession is NOT available to businesses in the following sectors:
Food stores and food wholesalers

Pharmacies and related wholesalers

Gaming Houses

Banks and Financial Entities

Insurance Companies

Regulated Telecommunications Sector
PROVIDE PAYROLL COST:
This will determine the amount for Approved Tax Relief (ATR) for the months June, July & August 2020, the qualifying period (QP). To accomplish this the taxpayer must provide:
A copy of their non- management payrolls for the month of February, 2020.

A copy of banking information in support of their payroll cost.

A copy of NIB returns for that month.

A payroll register showing the breakdown by employee categories.

A declaration that they will retain 80% of the workforce through to 31

st October, 2020. (Declaration included with the application form)
The relief provisions will apply as follows:
 PHASE II APPROVED TAX RELIEF (ATR)
NO. OF ELIGIBLE NON-EXECUTIVE STAFF
MAXIMUM CREDIT THAT WILL BE ALLOWED
MAXIMUM DEFERRAL THAT WILL BE ALLOWED

MAXIMUM

3 MONTH VALUE

 1 to 25
$150,000
$150,000
$300,000
26 to 300
$300,000
$300,000
$600,000
301 to 600
$600,000
$600,000
$1,200,000
600 to 1500
$1,500,000
$1,500.000
$3,000,000
1501 and over (assuming a max of 2500 employees)
$2,500,000
$2,500,000
$5,000,000
QUALIFYING BUSINESSES WILL BE ALLOWED TO:
Apply the tax credit as a non- reimbursable credit (NTC) to outstanding taxes.
Apply the tax deferral approved to any unpaid taxes or taxes in excess of the NTC.
Apply the full amount of the NTC firstly to any outstanding Business License Fees where applicable and the remaining portion to any unpaid VAT balances,
Pay the deferred tax over a twelve month period in equal installments starting January, 2021 free of interest or fees.
Where there are no Business License Fees outstanding, the full amount of the NTC will be applied to the VAT outstanding balance.
Use any unapplied remaining balance of the NTC, to offset any future VAT liability that may materialize in the qualifying period cumulatively.
All NTC allowed must be utilized against outstanding taxes arising through to 31st December, 2020.
Unused credits will no longer be available after 31st December, 2020
BUSINESS CONTINUITY:
The taxpayer will conduct business in the usual manner and withhold VAT payable (output VAT less Input VAT) to the limit of the available NTC.
Taxpayers will be required to upload with their filing in the usual manner schedules and copies of all Input and Output VAT supporting documents.
In rare cases a taxpayer might find themselves in a receivable position the amount so available will be utilized against future tax liability but will not be available as a cash refund.
DEPARTMENT OF INLAND REVENUE
Will acknowledge receipt of application within 24 hours
Will advise of approval of application and the value of any ATR within 48 hours of receipt of the relevant payroll cost and supporting documentation.
Will reverse finance charges arising during the program and deferral periods.
CLICK HERE TO APPLY  (http://atlas.revenue.gov.bs)